Deer & Stock Fences
Quality deer & stock fences supplied & installed in Hampshire & the New Forest
Post and rail

This is a  traditional style of fencing that has been a staple view in the rural communities of the English countryside. It would make a beautiful addition to your home as well as your field or paddock! Not only is it useful as a fence to restrict animal stock, but also as a simple demarcation of a boundary, or just to restrict pedestrian access.

We can supply and erect any variation of post and rail with or without stocknet attached to rear, and with oak, chestnut or softwood posts and rails.
We now only supply kiln dried and UC4 treated softwood posts for better rot protection.
Stock fencing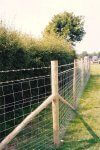 Stock wire fencing is supplied by Tornado Wire and is grant approved and made in the UK.
Stock  wire  can create an effective and cheap alternative to solid timber fences to protect or mark out a boundary.
A stock wire fence is also suitable as a pest control where badgers and deer are concerned, So do not think of stock fencing wire as purely agricultural.
Chestnut Fencing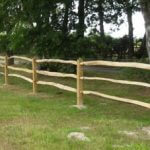 Chestnut fencing from RTS Fencing is produced from renewable woodland resources in Sussex. Our chestnut fencing products include chestnut paling, cleft chestnut post and rails and rustic poles. Cleft chestnut post and rail is traditionally used for fencing livestock, but is increasingly popular for gardens and driveways due to it's rustic and natural appearance. Chestnut is a hardwood and, like oak, It weathers naturally and requires no extra treatments.
Contact us today to discuss your fencing requirements.