Domestic Fences
Domestic Fencing in Southampton & Hampshire
We supply and erect all types of domestic fences from repairing a single post through to complete gardens.
Fence Panels and Trellis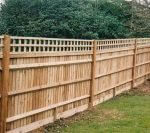 All panels come at 6 foot wide and can be any height, there are various different styles including standard waney edge and vertical slatted closeboard panels.
Trellis is available in any size panel up to 10 foot and hole sizes and pattern can be Taylor made to meet your requirements.
Panels and trellis are as standard dipped in a water based treatment, but a pressure treated alternative is also available.
Closeboard Fencing

Closeboard fencing comes in individual pieces and is assembled on site, this makes it a lot stronger than panels and because it comes pressure treated as standard it has a longer life expectancy.
Height is available from 3 foot and up to 6 foot 6 inches, ( can be higher but requires planning approval).
Palisade Fencing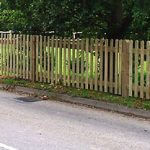 Palisade fencing is built on site, in the same way as close board, this can  be flat topped, round topped or pointed topped, again is available in any height.
Our timber posts have been pressure treated to protect against rot. Timber rot can happen if it has been exposed to moisture, either from the ground or the elements. We have even backed this product with a 15 year guarantee so you can feel confident that your post will continue to perform for years to come.
We can do this by carefully selecting the timber cut for the posts, next we kiln dry excess moisture before finally pressure treating with uc4 solution.